Welcome to ManoRezervacijos.lt. Let's get acquainted.
You provide services for clients. You make them feel happy. We provide an opportunity for a simpler, quicker and cheaper booking and make your client bookings available on our website.
Get started for free
We offer a full-featured free 30-day trial to all businesses signing up to our Plus and Premium plans. No credit card needed.
I don't know anyone who likes calling businesses. It's not fast or convenient, and it definitely doesn't feel like the future.Mark Zuckerberg (Facebook founder)
Online and Facebook booking
Receive bookings round-the-clock without any additional effort. Bookings are made in real time both on your website and the Facebook page. Client sees only the things you want to show, while you are always informed about any calendar changes.
ManoRezervacijos.lt is a tool that allows to receive bookings 24/7 on a website or a Facebook account. This is a simpler and more convenient way to book services.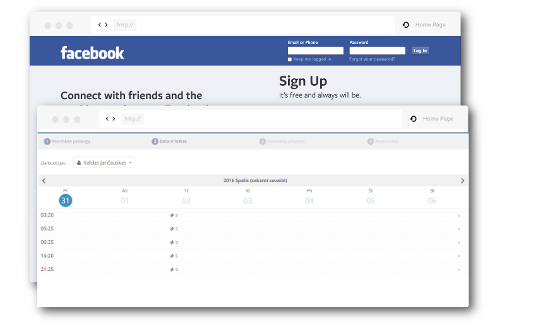 Convenient work planning
Manage your and staff time more efficiently whenever you are by using computer, telephone or tablet PC. We will provide all company staff with individual calendars and it will allow for more flexibility and free them from watching their notebooks.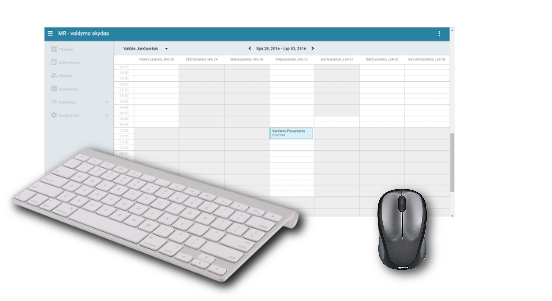 Maintain relations with your clients
More opportunities for communicating with your clients! We offer you to send personal messages automatically without making any effort. For instance, you can send thanks messages after every visit, share special offers, news, birthday greetings and anything that would strengthen friendship between you and the client.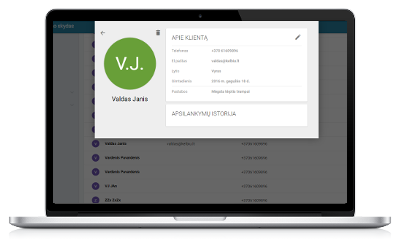 ManoRezervacijos.lt platform
Increase your revenue
It is an easy way to make use of free time on the calendar – we will offer it to new clients. ManoRezervacijos.lt operates in simple terms – no bookings – no fees. Our only mission is the success of your business.
Smart marketing
How to make use of available time? Our system will advise how to use it. An unexpected cancellation of a booking? You can offer the last-minute offer then. Slow Tuesday mornings? It is a chance for special offers to your new clients. Seasonal prices of hotels and air tickets? It's time to change your company's rules.
Better visibility
We invest in advertising so that you wouldn't need to do it. Visibility of your services is the most important thing. So, each of us does his best: we sell, while you make the client satisfied! Joint efforts are needed for success and we aim to be your trusted business partner.
Companies like yours
ManoRezervacijos.lt – It all makes it very easy, as it's impossible to keep everything in mind, and the paper is not the best option either...
The team is extremely happy. We have spent plenty of time booking, and now we are glad to have found you :)
Simple and Flexible Pricing
BASIC

€0,00 / mo.

150 appointments
2 staff
1 location
Rating system
Google Analytics
Booking widget
Light branding
Adverts
Support: Online

PLUS

€15,95 / mo.

500 appointments
5 staff
2 locations
Rating system
Google Analytics
Booking Widget
Adverts removal
Advanced reports
Gift cards
Email notifications
Online payments & deposits
Discount codes
Remove "Powered by Visitorify"
Support: Phone & Online

PREMIUM

€35,95 / mo.

3000 appointments
15 staff
5 locations
Rating system
Google Analytics
Booking Widget
Adverts removal
Advanced reports
Gift cards
Email notifications
SMS notifications
Online payments & deposits
Discount codes
Promotion system
Facebook appointment chatbot (beta)
Remove "Powered by Visitorify"
Support: Phone & Online
A useful partnershipFREE offer:
You will get a free unlimited access to a Standard plan for good, it will help to promote your business and generate more bookings. All bookings on your website or Facebook page are free of charge. We only charge a mediation fee when bookings are completed on ManoRezervacijos.lt or platforms of our partners. If we don't bring you clients, you don't need to pay anything.
web

Your personal website

ManoRezervacijos.lt can be your company website.

visibility

Be visible

We will make your services available on ManoRezervacijos.lt platform and websites of our partners.

developer_board

Booking engine

Provide your clients with an opportunity to book a visit on your website or your Facebook page.

settings

ManoRezervacijos.lt software

You will get access to our standard booking and client management software.